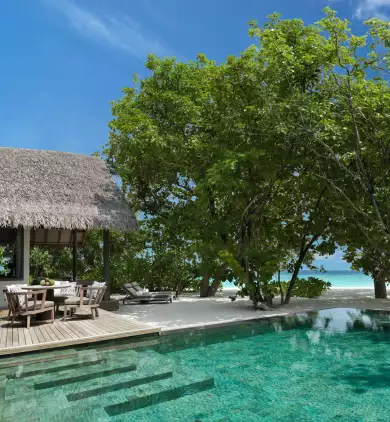 Deluxe Beach Pool Residence - One Bedroom
Vakkaru Maldives
Furnished with elegance, these one-bedroom Deluxe Beach Pool Residences of Vakkaru Maldives are high-end private retreats for couples and honeymooners seeking the perfection of a luxurious holiday in the Maldives. Spacious living space, outdoor garden showers and sliding glass doors with right next to the 35 sqm beach front pool are crafted in tropical settings for intimacy and seclusion.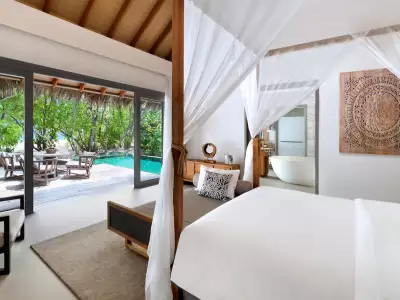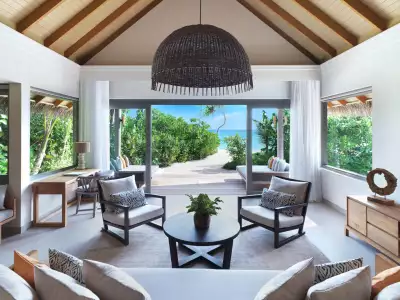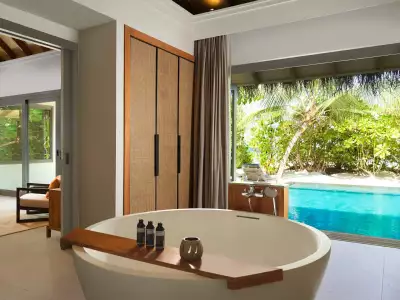 Servicios de Hotel y Habitaciones

Piscina privada

Wifi

Mayordomo

Pesca

Arrecife de Coral

Para Familias

Romántico

Tenis

Buceo
Modificaciones y anulación gratuita:
Políticas flexibles de cambio de fecha, cancelación y pagos
Seguro de Viajes Mundial:
Hasta 1 millón de euros de asistencia médica y sanitaria. Hasta 16.000 EUR de reembolso por cancelaciones de última hora
Vuelos internacionales:
Trabajamos con más de 170 aerolíneas que conectan con las Maldivas.
Se Aplican Términos y Condiciones
Paquetes y Tarifas:
Todas las tarifas indicadas se facturarán junto con los impuestos y gastos de servicio aplicables.
Política de Pago:
Para confirmar la reserva, se requiere un depósito del 25% del importe total y el pago del resto antes de la llegada, según la factura pro-forma.
Métodos de Pago:
Se aceptan pagos con VISA, MasterCard y transferencias bancarias.
OTRAS HABITACIONES EN Vakkaru Maldives